Powerbank Accessories
Plugs for the car, universal power supply, photovoltaic, socket as in the car and a voltmeter are the most important accessories to the Notebook Powerbank.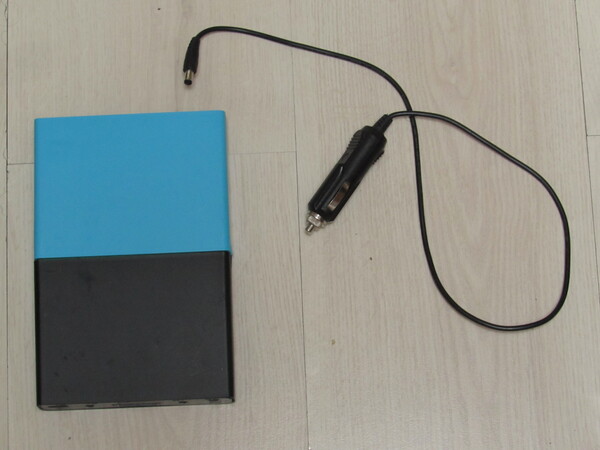 A cable to connect the powerbank to the usual 12 V socket in the car.

Charging in the car conditionally possible



. If the batteries in the powerbank are quite empty, then the voltage from the starter battery in the parked car is sufficient. If the voltage difference between the batteries in the powerbank and the starter battery becomes smaller, then the charging power will gradually decrease from 15 watts to 0 watts.

In a parked car, the starter battery usually has 12 to 12.8 V. If it is below 12 V, the engine usually cannot be started. With the engine running, however, 13.5 to 14 V. While driving to the next destination, the powerbank can be charged in any case, even if only with a modest 15 W.

Of course, you can also use a car adapter to charge the powerbank and test it afterwards with high tension: does the engine still start, or is the starter battery already too weak for it?

Charging with photovoltaic possible



. You can connect any photovoltaic that you could use to charge a 12 V lead-acid battery. No matter what the photovoltaic supplies, only 15 W will be accepted.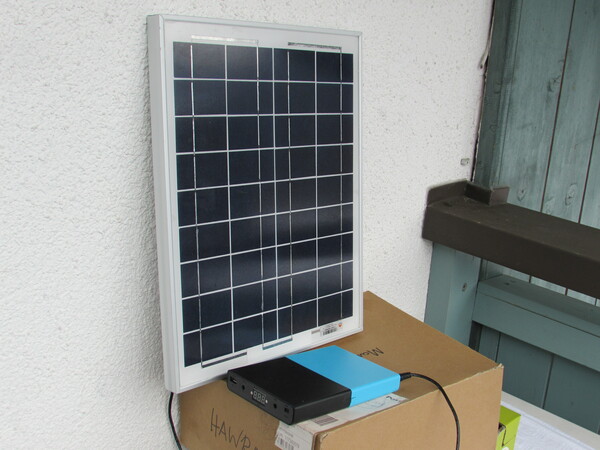 Of course, I do not recommend this heavy and rigid 20 W photovoltaic, but light foldable modules with 20 W to 50 watts. The powerbank fetches a maximum of 15 W. So in full sunshine there would be no difference between a 20 and 50 watt photovoltaic. When it is very cloudy, the 50 W photovoltaic might still provide 10 watts, while the 20 W photovoltaic might only make it to 4 watts.

Universal power supply 230 V AC 12 V DC



From my old stuff: 230 V AC input and 12 V DC input. A slide switch can be used to set 12, 14, 16, 18, 20, 22, 24 V.








There's this jump starter sitting around in my car for years, waiting for an emergency: starter battery too weak to start. But what to do when the emergency happens and the jump starter is no longer able to start the engine due to years of self-discharge?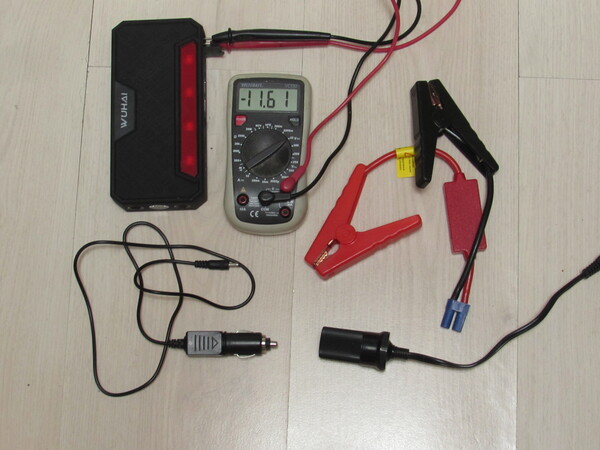 Junmpstarter had ever a 12 V charger, but unfortunately only for the socket in the car. Therefore necessarily also a cable with car socket on it to have at the powerbank also a car socket.

With the 11,61 V the jumpstarter very likely would not have been able to start the engine of my car. After this photo, the jump starter needed 15 Wh to be full again, this is what the wattmeter showed.

Voltmeter for exact state of charge



. The voltage of the batteries can be measured at the direct output. This allows you to see the state of charge much more accurately than with the 3 LEDs on the device.