K2 Solar Laptop Powerbank in use
185 Wh battery and up to 76 watts of peak photovoltaic mean large reserves in use. Together with economical laptops would be a life without electricity network possible.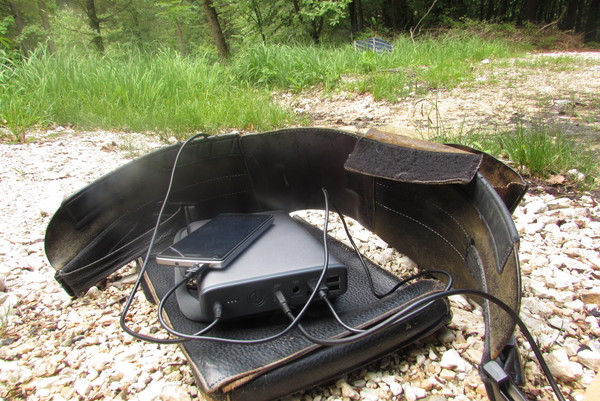 Here the K2 Solar in use at a place where I already reported 5 years ago from a previous laptop power supply . In the background the foldable photovoltaics, which I got 2005 from Unisolar .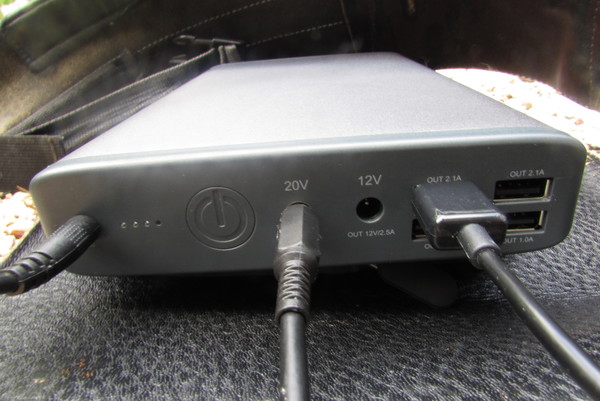 Left to right:
Input for power supply or up to 76 watts of peak photovoltaic
4 LEDs that indicate the charge state and charge. If the LED flashes farthest to the right, then it is being charged.
Power On. The USB 5 V, 12 V and 20 V outputs require a conversion of the battery voltage. A steady readiness would thus consume electricity. If the power button is pressed, all outputs are checked to see if a load is connected. As soon as the current consumption at an output becomes very small, this output is switched off again.
20 V 3 output for notebooks.
12 V 2.5 A output. Netbooks and some economical notebooks need 12 V.
4 USB outputs, 2 with 2.1 A, 2 with 1 A.
The power requirement of laptops are completely different. This starts at 4 watts and stops at 400 watts. Beyond the 60 watts, which supplies the K2 Solar, are actually only Gaminig laptops.

Currently I have in the family 4 pcs Acer ES1-331 series laptops with N3150, N3710, N3050 CPU. They all have 6 watts TDP (thermal design power). Even with a brightly lit display, the power requirement is typically less than 10 watts. To the K2 Solar one could connect all 4 laptops at a time. A maximum of 76 watts of photovoltaic for the K2 Solar would also generally supply more power than the 4 laptops consume.

For this one would only have to make a corresponding distributor. The laptops should also be fully charged, because when charging the internal battery, the power consumption increases to over 30 watts.

K2 Solar has big reserves



Let's assume a 76 watt peak photovoltaic and all 4 economical notebooks of my family would be connected to the K2 Solar and it would be a medium cloudy day. Photovoltaic supplies only 20 watts on average, the 4 notebooks need 32 watts. The battery must deliver 12 watts. After 10 hours only 2/3 of the 185 Wh battery would be consumed.

There are still 2 billion people who live without grid connected electricity. A K2 solar with a 76 watt photovoltaic could supply the electricity for light, communication and education for a family in a sunny developing country. About 8000 hours of using economical notebooks with 6 watts, 3000 times recharging a smartphone and 2000 hours of 10 watts for LED lighting.