Cell phone micro-USB input defective: Charge external battery
What if you do not get any more power into the phone, because the micro-USB plug has extreme wobble contacts?





My daughters treated the micro-USB connector of their two X5 so rough that after 8 months nothing worked anymore. As an emergency solution I ordered two universal charger for cellphone batteries together with 3 batteries each. What was meant as an emergency solution was soon considered as a comfort enhancement: instead of hours of charging the mobile phone on the cable simply go down quickly, change battery and start again.



On the micro-USB of modern smartphones one can connect all possible devices. For example, a DVB-T TV receiver. Unfortunately, mobile phone charging and at the same time OTG is not possible. External charger like this and several batteries provides a solution for this problem. So you have to interrupt every few hours for only one to two minutes, in order to bring a freshly charged battery into the mobile phone.

Universal charger and 3 batteries






Just unpacked: the universal charger still in the box, one adapter US socket on EU socket and 3 batteries for the Doogee X5.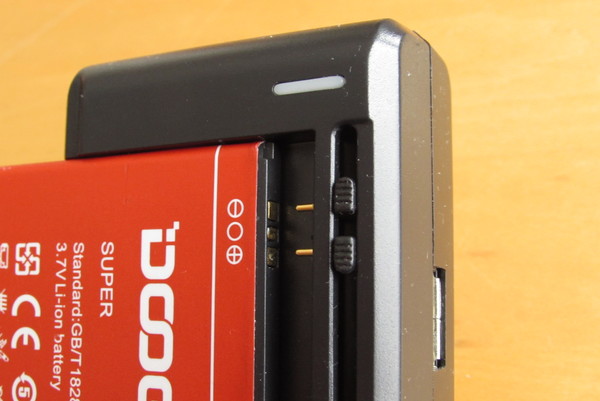 The two current contacts are displaceable in order to bring them into contact with the respective rechargeable battery. The device converts itself to the correct polarity.

If the device is disconnected from the power supply, the blue light LED indicates that the battery is connected to the battery.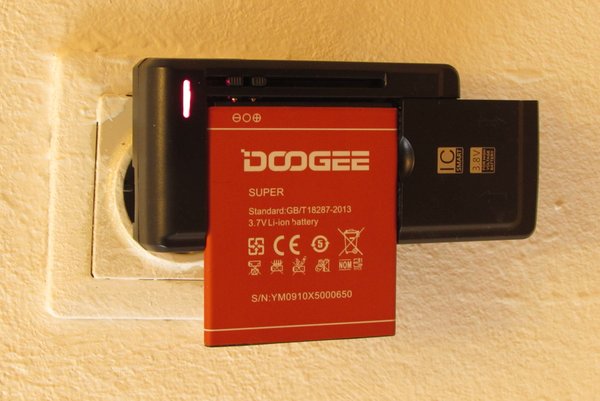 If the device is connected to the power supply, the LED will light up with reddish / violet that is being charged, blue indicating that the battery is full or has no contact.