Doogee X5 Max Pro Firmware 2017-09-12 malware free
Finally! Doogee has come to his senses. Month-long tests with the firmware version 2017-09-12 showed this is clean! Almost clean, the e-mail bug still exists.







Always only the next version



The internal update function under "Settings" always installs only the immediately next version or nothing new. The worst malware version of 2017-02-17 is a dead end. No further update, everything up to date. Therefore, most Doogee X5 max pro can only be upgraded to the 2017-09-12 version with the Flash tool.

You need from this page the firmware for ft (FlashTool)



Here to SP Flash Tool. If you have Windows, you still have to worry about the manual installation of USB drivers. With Linux one is spared of such circumstantialities.

Unzip ZIP, open Terminal, change to new folder, and

sudo ./flash_tool.sh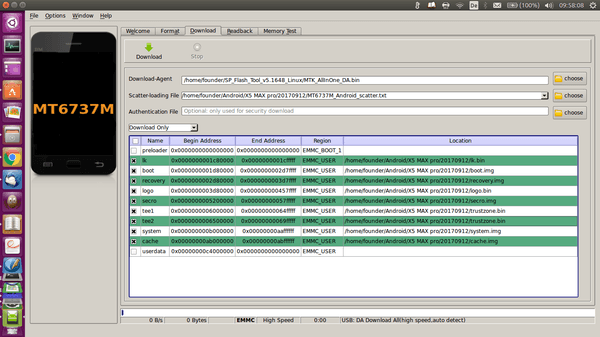 Click on the picture to see it in full resolution. Unfortunately you have to set all images yourself. Everything is logical, except for tee1 and tee2, where each trustzone.bin belongs. The tick at userdata was deliberately left off. So it is possible to perform this update without loss of data.

Now turn off the Doogee, take out the battery and connect via USB and start the downoad of flash tools on the Doogee.